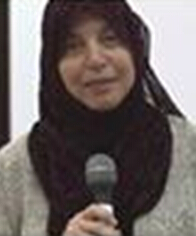 Dr. Balsam A. Mustafa,
University Malaysia Pahang (UMP), Malaysia
Dr. Balsam A. Mustafa, is a senior lecturer in the Software Engineering Department at University Malaysia Pahang (UMP) since 2011. She earned her PhD in Computer Science (Software Engineering) in 2009. She has over 10 years experience in teaching range of courses in computer science and software engineering on undergraduate and post graduate levels. She has awarded one of the top 5 master programs lecturers in UMP in 2014. Balsam has served on roughly 20 international conference program committees and journals editorial board. She is the chief editor of her faculty bulletin. Her research interests are in the areas of requirements engineering, empirical software engineering, intelligent health care systems, and software quality assurance, with special emphasis on teaching and supervision quality in higher education. Balsam is a member of IEEE, IEEE Communications Society, Computer Science Teachers Association CSTA (ACM), Int. Association of Computer Science and Information Technology (IACSIT), and Australian Academy of Business Leadership (AABL).