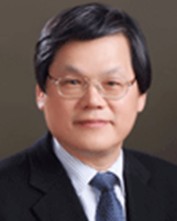 Prof. Changduk Kong,
Chsoun University, South Korea
Prof. Kong graduated with a BSc in Aerospace Engineering from the Korea Aerospace University and a PhD in Aerospace Engineering from the Osaka Prefecture University, Japan. He was appointed to Professor in 1994 in the Department of Aerospace Engineering at Chosun University and was Dean of the School of Aerospace and Naval Architecture Engineering in 1999/2005-2006 and Dean of the Facility Management Office at Chosun University, 2011-2012.
Prof. Kong has contributed greatly to the development of Aerospace Engineering in Korea, primarily through his roles as President of SASE (The Society for Aerospace System Engineering) in 2013-2014, President of ICRC (International Collaboration Research Centre in Natural Composites, Chosun University) since 2012, former President of KSAS (The Korean Society for Aeronautical and Space Sciences, 2012), former President of KSPE (The Korean Society of Propulsion Engineers, 2007-2008), Ex-Chair of Cycle Innovation-IGTI-ASME between 2009 and 2011, former President of RIME (Research Institute of Mechanical Engineering-Chosun University, 2006-2008) and former Head of the Aero-Propulsion Division of ADD (Agency for Defence Development,1978-1994), First Lieutenant of ROKAF(Republic of Korea Air Forces, 1974-1978).
He was Visiting Professor at Imperial College London (2011-2012) and is on the Editorial Board of IJTJ, IJCM, AEAT (2001-present), and Editor-in-Chief of JKSAS and JKSPE(2006-2010). He received the Korean National Decoration in Science for his scientific achievement and contribution to Korean aerospace development, and Academic Achievement Awards from KSAS and KSPE.
Prof. Kong has authored and co-authored more than 600 papers including 61 SCI journal papers, and has received numerous lecture invitations from companies, research institutes and universities and delivered six keynotes and invited lectures at international conferences. He has organized 19 national conferences, forums and workshops and was co-organiser on three international conferences.