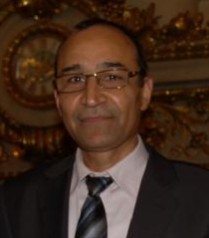 Dr. Samir Garbaya
ENSAM ParisTech, France
Dr. Samir Garbaya was born on September 3, 1959. At present, he is associate professor at the ENSAM ParisTech University. He obtained his PhD (Robotics) from the University of Versailles in 2001, MSc (production engineering) from the University of Birmingham (UK) in 1989 and the engineering degree (mechanical engineering) from the high school of engineering in Tunisia, 1984.
Dr. Garbaya has extensive experience in both industrial and academic environments. He started his career in the Offshore petroleum industry and then in the railway industry. He served as a lecturer of computer graphics, human computer interaction and virtual reality in universities and engineering schools in France and in Tunisia. His research focuses on investigating human performance in virtual environments, the design of virtual reality systems, and human perception and sensory integration in virtual environment design. Dr. Garbaya has steered several seminars in virtual reality and also a member of program committee of many international conferences. In February 2009, Dr. Garbaya chaired the first World Conference on Innovative Virtual Reality (http://www.asmeconferences.org/WINVR09/). He participated to the development of engineering and master programs since 2002 and he served as a reviewer of national (National Network of software Technology) and international research projects since 1998. Dr. Garbaya is a founder member of the French Virtual Reality Society (www.afrv.fr) and elected member of its board of directors since 2005. He participated in many research projects and contributed to the development of the European research programs since 1995.